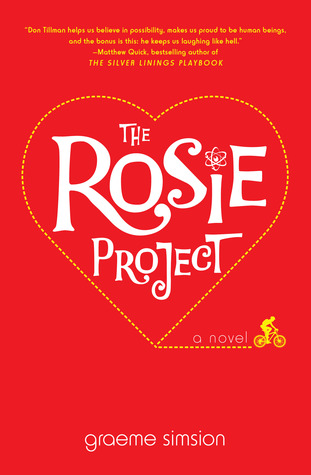 2017: 45
4 of 5 stars
Published January 2013
Don Tillman is a professor of genetics and he really knows his business. He's single, 40,  and does not make friends easily. In fact, he only has two, and one of those is an elderly lady who is now in a senior citizen home. He has decided, however, that it's time he finds a wife and in order to screen the candidates properly, comes up with a long and detailed questionnaire to filter out all unsuitable candidates.
Enter Rosie. Sent to him by his other friend, Gene, Rosie is most certainly unsuitable but she's mainly there to ask his help in finding her biological father. The Wife Project is set aside for The Father Project and they spend a lot of time together. Don is not your ordinary man and has challenges. He's very clearly living with Asperger's Syndrome though doesn't realize it in spite of having conducted lectures in the subject on Gene's behalf. I think Rosie probably picked up on it early because she's a PHD in psychology and would recognize the symptoms but it's never raised as an issue. Don is who he is. Don's methodical methods and expertise are just what Rosie needs.
You can see that he's starting to find her appealing but since he doesn't consider her a wife candidate, just a friend, and he doesn't think he's capable of the emotion of love, he continually says or does the wrong thing, having no clue about how to read emotions or situations. Love isn't logical and Don is lost at sea when it comes to things like that and yet, and yet, he seems to be a lot happier around Rosie than without her.  The story is fun and light hearted and it's a feel-good book. You get exasperated when Don yet again gets it wrong, you wait with anticipation to see if he gets it right. You want to tell them both not to give up. You sigh with satisfaction at the end.