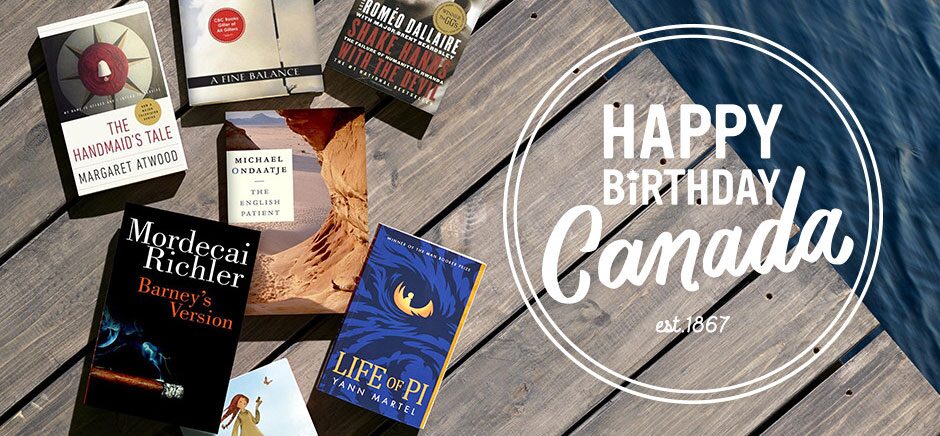 Tomorrow is Canada's 150th birthday as a country. While the Indigenous peoples have been here for millenia, officially, Canada has been settled by the Europeans for over 400 years, originally by the French with settlements near Quebec and in what is now Nova Scotia (Port Royal, 1605). But did you know there was a Viking settlement at the top tip of Newfoundland 1000 years ago? And John Cabot, an Italian explorer (Giovanni Caboto), is believed to have touched down in Newfoundland in the late 15th century.
Canada is one of the world's best countries, all the polls say so! (but I'm not very objective) I feel privileged to live here where we have such a fantastic mix of cultures, beautiful scenery from mountains to sea to prairie, lakes and rivers, cities and villages. Are we perfect? Of course not. But Canada is respected and I'm proud that we are ahead of the game on issues like LGBTQ rights, gender equality, education and health care. We still have a long way to go in many areas but we're getting there.
And talent, boy do we have talent. Gold medal winning athletes, some of the funniest comedians in the world, award winning performers from all areas of the arts, and writers…. we have some stupendous writers whose works have had an impact on our own culture as well as world wide fame.
A century ago or more, a woman from rural Prince Edward Island wrote a story about a funny looking, red-headed orphan girl called Anne Shirley (don't forget the E on her name!) Lucy Maud Montgomery gave young readers and adults alike a character that has earned a place in many hearts. Anne of Green Gables and all the sequels and other books about the Islanders have been best sellers ever since. One culture in particular, the Japanese, have become particularly huge fans of Anne and tourists from Japan flock to Prince Edward Island to visit the recreated Green Gables farm.
From the innocence of Anne to the horror of dystopia, Margaret Atwood's The Handmaid's Tale has chilled us for 30 years. Margaret Atwood is one of Canada's most respected writers, giving us poetry, short stories, novels (historic fiction, regular fiction, science fiction and dystopian, is there anything she can't do?). Followers will know that I've written a lot about The Handmaid's Tale recently with the airing of the new television series that's just ended. I've only read a handful of her works so far but I'm determined to make my way through the novels at the very lease.
I wouldn't have the time or space to write about the whole history of Canadian writers but there have been published novels here since the mid-19th century when Susanna Moodie wrote Roughing It in the Bush about the hardship of surviving in the wilds of Canada, trying to eke out a living on a farm.  She wrote several books on the same theme.  W. O. Mitchell's "Who Has Seen the Wind" has similar themes to Anne of Green Gables, focusing on a young boy on the Prairies. There is a good list of classic Canadian books here from the earliest days to present day. And another list here as well, from the early days to 2010.  I've read 10 on that list (so far!) Interestingly, Anne of Green Gables isn't on that list and I think it should be!
And there have been other contributions to the literary arts. Another person from Canada that has contributed to pop culture in a huge way is Joe Shuster. Joe Shuster was born in Toronto though moved to Cleveland with his family where he grew up and became an artist.  He and a friend got involved with comics and they created a strip featuring a character that has endured ever since the 1933s. Superman! Yep, Superman was created by a Canadian-born lad. Where would the comic superhero world be without Superman? I'm sure lots of kids have learned to read thanks to comics.
Some of the more classic Canadian writers include Margaret Laurence, Mordecai Richler, Robertson Davies, Morley Callaghan, Hugh MacLennan, Alice Munro, and Timothy Findley. We're still giving the world amazing new talent. While some of these writers have been producing for quite awhile, these are some I've discovered over the past few years: Miriam Toews, Ann-Marie MacDonald, Frances Itani, Gil Adamson, Richard Wagamese, Linden McIntyre, Guy Gavriel Kay (scifi), Michael Ondaatje, David Adams Richards, Wayne Johnston, Lesley Crewe, Jane Urquhart, Heather O'Neill, Jocelyn Saucier, Emma Donoghue, Elizabeth Hay, Madeline Ashby, Katherine Vermette, Jo Walton, Donna Morrissey, Madeleine Thien, Ami McKay, Linwood Barclay, Zoe Whittall, Stephen Price, Kathleen Winter…. oh gosh, somebody stop me! You won't go wrong with these but there are so many more.
I don't read exclusively Canadian authors but over the past 4 or 5 years, I've discovered many of the above and am trying to support Canadian writers more often. I find that my second most popular country for writers is the United Kingdom and then America. I've also found that I really like some of the Scandiavian crime writers after I read the "Girl with the Dragon Tattoo" Millenium series, Jo Nesbo in particular.
On the eve of Canada's birthday, I urge Canadians to read more, try to choose some of our talented writers, poets and graphic artists. There are works from all genres. Support and explore the wonderful Indigenous writers. Read books written in French or translated from French. Read books written by immigrants who made Canada their home, writers we proudly claim as ours now.  Pick up a biography or autobiography about/by some of our stand out citizens (celebrities, politicians, activists, athletes, artists) Try some classic authors and give some brand new talent the chance to entrance you and take you to another place. You'll be glad you did.