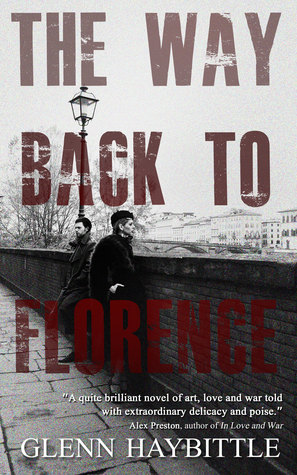 2017:58
2 of 5 stars
Published June 2015
Freddie is British and attending an art college in Florence and meets the Italian Isabella. They fall in love and marry but soon, war breaks out. Freddie is now living in enemy territory and returns to Britain to join the Royal Air Force, flying bombing missions. Isabella stays in Florence and gets by the best she can. She ends up getting tangled up in a scheme to reproduce an Old Masters painting to keep the original out of the hands of the Nazis.
The couple had a friend, Oskar, who had returned to Paris but fled there with his small daughter, Esme because they're Jewish. His wife was caught in the Velodrome roundup so he and Esme are on their own. In their attempts to get to Italy, they are also captured but manage to escape. Then there's Marina who does life modelling for the art college and Francesco, the man that loves her. He is Jewish as well and is also captured along with his sister. It all starts to get a bit convoluted. I didn't really find much connection between Marina, Francesco and the trio of Freddie, Isabella and Oskar. It felt a bit like two separate stories altogether and it felt very disconnected overall. I also found that Freddie's story while he was flying bombing missions was repetitive and went on a bit too long.
Having said all that, I think I found Isabella's story was the most interesting. Once Freddie's circumstances changed, he became moderately more interesting. Francesco and Marina didn't keep my attention much at all and Oskar's story was also not connecting with me. It all felt very disjointed. I don't know why, but perhaps all the different story lines just didn't cross paths enough. I didn't feel very invested in them. I also found that the movement of characters was too abrupt and leaps in the plotline from one point to the next often jarred. Someone might be in one location and the next time we see them, they're in another place with no explanation as to how they got there. I also found that the "wrap up" chapter at the end was a bit unbelievable. I think the book had a lot more potential than the end result. I really wanted to like it, and I did enjoy parts of it, but it disappointed.
Thanks to NetGalley for a digital copy in exchange for a review.
#20BooksOfSummerChallenge