Do you belong to a book club? They've been around a very long time, mostly under the radar but in the past 20 years or so, they've become really popular. They have also moved out of people's homes and into local bookstores, I've noticed signs up for them in "my" Chapter's store and in others. I think some of the libraries provide space for them, too. I've never belonged to one.
I know. That seems odd considering how much I read. With Goodreads, I've been a participant in online group reads so that's kind of the same thing. The appeal of "real life" book clubs is the physical interaction, the coffee/tea/wine/treats aspect, the live reaction and discussion. Unless you're meeting in an online real time chat room to talk about a book, the discussion loses it's initiative (I think that's the right word I was looking for) and it's impact. Whether I could find a book club or join one at the bookstore or library  likely wouldn't be difficult. The main drawback for me was that I don't own a vehicle and traipsing around in the evenings by bus does not appeal in the least. That's my excuse and I'm sticking with it.
I attended a book club meeting once, with a friend of mine on a late spring evening. I think there were about 8 or 10 women attending, most on the older side of middle age, all very well educated and most of them quite serious readers, I think. I don't remember the book they were discussing and I do know I hadn't read it. The club was also choosing the books for the next year, beginning in September (taking the summer off). My suggestion of Outlander by Diana Gabaldon made the cut for the first book of the new reading  year, a good summer read, it was deemed. I wonder if they read it and  if they ended up enjoying it.
This brings me to a very famous book "club" started some years ago by Oprah Winfrey. She is a reader herself and decided to recommend books to her fans, books that she enjoyed and made a "club" out of it. Everyone would read a book for a month or two. Then she'd have the author on her tv show and they could all talk about/watch the show about the book. Her recommendation would spike sales for that book immensely and generate a lot of interest in that author. She didn't just pick books off the top seller lists either and that made it interesting. A little later, she started to focus on Classics. I think Oprah did quite a lot to promote literacy not just in children, not just in people who struggled to read, but in ordinary folks that just never took the time to read or appreciate the joy of a well written book.
I never participated in Oprah's book club but did look at the books she recommended. Many of her choices were written by black writers and/or were about black women and their experiences. That would resonate with her and a lot of her audience and you want a book that you can relate to. I'm not black so sometimes I found it difficult to relate to a book's message and some of the books she promoted were quite dark. Not all, though. But an Oprah sticker on a book at your bookstore will pretty much guarantee you a good book with an intriguing character or two in it.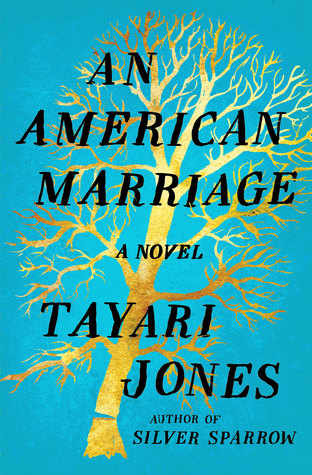 The reason I've dug into all of this is this month's newest Oprah book club, An American Marriage by Tayari Jones. I'm not sure why but the book caught my eye. It's about an African American couple, Celestial and Roy, who's world comes crashing down when Roy is jailed for something he didn't do, and what happens to them both individually and as a couple after that. I thought "Oooh, that sounds good".  Then I realized I had read one of Ms. Jones' books before and liked that one, too. It's called Silver Sparrow and is the story of two families linked by a bigamist husband but told from the point of view of the daughters. (My review) Always a good sign if I've already "met" the author and liked one of their books.
It's now on my wishlist, with the hope that I can get an ecopy from my library. I've got too many others on the go at the moment to try to fit that in as well and with Canada Reads  coming soon, that's going to bump a few more books up the priority list. (looks ruefully at the increasing stack of paper books and magazines stacking up waiting to  be read and loved!)
You can browse through Oprah's picks here and there's a downloadable pdf file of them there as well. She's chosen a good variety of books over the past 20 years including two of my all time favourites, Fall On Your Knees, by Canadian author Ann-Marie MacDonald and Pillars of the Earth by Ken Follett. It's a good list to peruse if you're looking for something new.
So. Do you belong to a book club? Is it "in real life" or online? Is it more about the social aspect than the books? I think once I retire I may look around for one, perhaps one that meets on a Sunday afternoon and near-ish where I live in case taxis are going to be involved.