It might seem odd to post a movie review to a Reading themed blog but it's a movie that was made from a book. "IT" is a 1986 novel by the horror writer Stephen King. It's a big, chunky book that has two parts, one taking place in 1958 with a group of early-teens fighting an entity called Pennywise and then the second part some 25+ years later in the early 80s with the same group as adults returning to their home town of Derry to confront Pennywise again. Pennywise appears as a clown at first, to lure in children then it changes to represent the innermost fear on which it feeds. It may maim or kill and is terrifying. It lurks in the sewers, or in dark corners of old, abandoned houses, never out in the open sunlight. The kids are friends but are often bullied by the stronger and more popular children. They find strength in their bond as the Losers' Club and that's what gets them through this nightmare, both as children and as adults.
The book was made into a tv mini-series in the 80s starring British actor Tim Curry as Pennywise the clown and he was excellent, though for me, the best part of it. It was good, better because he was in it, but not great, as I recall.
The new remake of IT was quite good. I haven't read the book since the 80s so I couldn't say whether it followed it well or not but it only focussed on the part to do with the kids, not the adults years later like the original mini series did. It was set in 1988-89 which would bring the adult part forward to present day if there is a sequel planned, and it seems like there might be.
All of the child actors they cast were very good, which is unusual really (in my opinion). For me, there is always at least one or more that irritates me. Not all of the kids themselves are likeable but then that's not down to the actors, just the character and I would think the actor must be doing a good job if he's making the character annoying! The one playing the girl in the group was especially good. She's Sophia Lillis and she's got talent. She's also really pretty now at the age of about 15. She's going to be a stunner in 5 or 10 years. She kind of reminds me of Deborah Messing from Will and Grace. Talent and looks will take her far in Hollywood. Watch that space.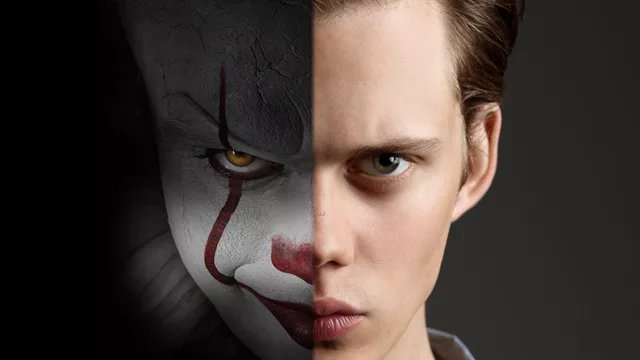 The man that played Pennywise the clown in this version is Bill Skarsgård from the Swedish family of actors. You've seen his father Stellan in the Pirates of the Caribbean franchise and his brother, Alexander, was in True Blood. We've only just seen Bill lately in a creepy series called Hemlock Grove. Excellent stuff with vampires, a werewolf and lots of other creatures. Tim Curry played the original Pennywise but Bill did just as good a job, I think.
Since this movie was all about the kids and their experience, it went into more detail about the lives of most of them and about their fears which is what the entity feeds on. Their parents are not major characters and only appear if it contributes to either the child's state of mind or to their personal fears. If they do make a second movie about the adults, it should be interesting.
IT is on my list to re-read. Perhaps it would be a good October/Halloween book! I read a lot of Stephen King's books back in the 80s with a few more in the past 10 years. I haven't read the Dark Tower series so won't be going to see the new movie out that's based on them. Quite often, movies and mini-series based on King's books have fallen flat which is a shame. Few seem to be able to really grasp the spirit of the book. Even The Shining with Jack Nicholson seemed to miss the mark a bit for em. Nicholson is great but his personality is so huge that it kind of takes over a bit. The Shining was one of the movies that was better received than most, however.
I wonder if part of the problem is that the King novels are usually so thick with lots of detail and that's hard to translate into a film. By losing so much detail, you lose a lot of the plot and it doesn't hang together as well. The movies then rely on effects and scare tactics rather than leading you into the situations more slowly where the creepy and scary bits then have more of an impact. At least, for me. In fact, it's a general opinion that the best adaptations of King's work have come from his short stories (Stand By Me, The Shawshank Redemption) with a few exceptions (Misery and the original version of Carrie were excellent adaptations from novels. You might think mini series would be better, giving more time to expand on the detail and the original IT wasn't too bad at all but The Stand, one of my favourite books, really dragged. I loved the more recent novel 11/22/63 but I didn't enjoy the series made from it, either. In my opinion, James Franco did not suit the lead part and they changed too much of it.
The new IT has managed to get past the details problem, probably by splitting the book into two movies, I guess. At the end, there's a screen with "Chapter One" displayed, indicating there could be a second chapter. Hollywood loves sequels so it's likely. If they do as good a job as they did with this one, it should be worth seeing and I would definitely recommend the movie we saw last night!
Another work in the making is a new limited 10 episode series that Hulu is producing called Castle Rock. King fans know Castle Rock is one of the towns that appear in a number of his books along with Derry, both towns in the easternmost U.S. state of Maine. Wikipedia describes the series as "The series is set to explore the themes and worlds uniting King's entire canon, while brushing up against some of his most iconic and beloved stories. " So far, Sissy Spacek and Bill Skarsgård are among two actors already cast, both of them being actors that have played in Steven King movies (Sissy was Carrie). It might be interesting, this "mash up" as it were.
Stephen King's wife Tabitha is also a writer and I've read two of her books which were not horror based. His son Owen is now writing and collaborating with his father.
I do remember liking IT as a novel. My other favourite King books include 11/22/63, Christine, The Stand, The Shining, and The Dead Zone and Mr. Mercedes. Are you a fan? Which of King's books or adaptations are your favourites?